I woke up with a rather bad headache.
When defector came over to pick me up, I didn't want to go to the party.
But he gave me a panadol and I decided to go for the party with the headache.
I look funny. Kinda pale I know..
Had some fries at Burger King before searching for Geek Terminal..
I'm so glad to have made it there!
Defector and I wasn't really early but well, lets just say most Singaporeans tend to arrive late for parties..
Being the shy us, we sat around and wait for the event to get started...
I was so nervous I went to the toilet for a grand total of 3 times. or was it 4 times, darling?
The last trip, I ran out of the toilet because there was a cockroach trying to come out from the drain thingy. I saw the feelers and I think the mouth! eek!!!!!
This was taken on my second trip. :) I know I super zi lian..
So the award giving thingy goes on and yada yada yada.. and then they announce the winners.. Not surprised that defector didn't' get any award... but WHY didn't you guys voted for him???
huh? why why why?
*calm down chicky, calm down~*
hee..
So, a birthday party wouldn't be complete without a birthday cake right?
Must thank
Arzhou
and his 2 beautiful "bodyguards" for the delicious cake. =)
By the way, the girl in front of me is
Sheylara
! She's so chio in person!
I wanted to take a photo with her, but too shy lah..
I met a number of them and can finally can put faces to the blogs I've read!
Got to met people like
ChillyCraps
,
DK
,
Daphne
,
Tstar
,
Rinaz
,
Nicole
,
Hendri
,
Eastcoastlife
,
Uzyn
,
Ntt
... so many of them.. I can't name them all.. just look at the photo below.. =)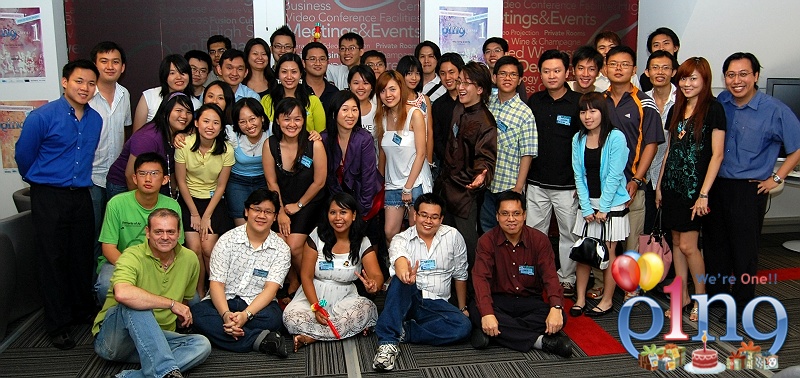 I dun know why I'm "bending forward" when I'm already so short. -.-'''
Those of you who weren't there, not only did you missed the fun, you missed the goodie bag too! =p
All the stuffs inside.. which reminds me.. I need to save up to get a Apple laptop or desktop as soon as I can! =)
By the way, did anyone of you discover what's wrong with the free Geek Terminal voucher?
No stamp and signature leh! how???
ah.. another thing..
The next time you see me and you feel awkward calling me uglyfatchick, you can call me Chicky.
Hi, I'm Chicky! =)