Notice this new badge at the side of my blog?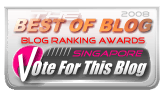 Don't know why but I realise my blog totally disappeared from their web, so I had to re-submit my blog again. This time I submitted my blog under Singapore Girls.
Ranking 51 sounds good. but I'm actually number 51 out of 51. -.-
Will you vote for me? Pretty please?