13 December 2008
Neoprints with Js and Sha Xiao Mei.
I like most of the photos.
Even though there's not a lot of fanciful designs, but I'm already very happy they willing to spend time with me leh... Especially poor Js, have to wait 2hrs for us. A girl must be very lucky to be JS's girlfriend.. He can wait 2 hrs for 2 girls who are not even his girlfriend loh! But of cause I don't mean everytime like that lah! Aiyo.. you know what I mean right??
Once again, sorry lah JS!
We don't mean it de.. Who ask our body so "贪睡" haiz..
对不起 lah. I apologise on my blog to you lah..
Bought tons of stuffs again.. Argh..
After CNY, I'm going to lock up my atm card!!!
Hubby please assist me in locking up my card! Make sure I don't open the cupboard to take it out ah!!
The hair mask I've looked for quite long le.. :)
Since I used finish the last one don't know how long ago sia...
Going to start using it soon.. (
DMG: $44.50
)
Sis and I bought Christmas CD.
(DMG: $12.00)
Got people ask me why I buy Christmas CD...
Of cause to listen lah, then to eat ah?? LOL.
I also bought a cute little Monkey Coin Bank.
(DMG: $3.90)
Should start putting money inside soon ah..
Must try to save money now that I'm not working = no income ah.
No income = no money ah.
No money = Need to starve soon ah.
So, after I meet up with my 2 precious buddies, I went to the Make Up Store Xmas Indulgence "Party". Cause there's free makeover but need to make appointment de..
Anyway I quite like the makeover done by the the lady there so I decide to buy the brushes and hope to recreate similar look one day... I bought 2 brushes and 1 eyebrow colour thingy there. Abit expensive even after the 20% discount though..
(DMG: $79.20)
All Makeup done by lady (I think she's call JASS) at the Make Up Store, except my short lashes, which has been curled and "mascara-ed" at home by me. :p
I asked for simple makeup and below is the result..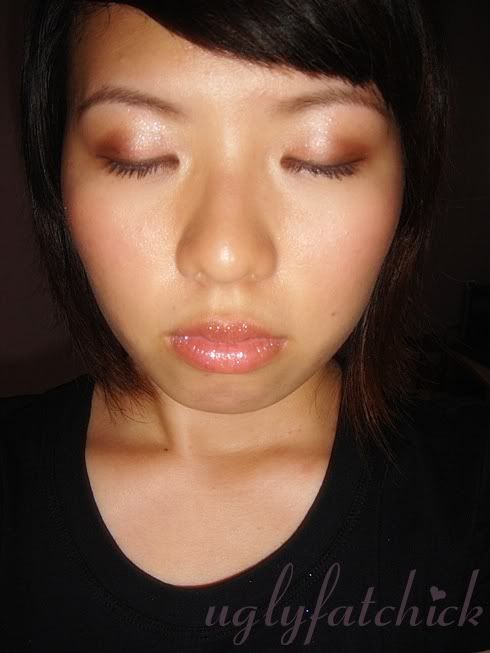 Eyeliner + Pink and Brown Eyeshadow + some glittery stuff.
After I messed up my hair.
Notice my new black top? Bought this EDC top at the John Little sales, I think $11.90 or something ah.. Very comfortable ah! Regret only bought 1 piece.. :p hee..
Me and hubby. :p
Muacks hubby. :p